Somewhere, years ago, a shopper pulled out his phone while in a store and used it to help him make a buying decision for the very first time. That moment was like the first time a creature wiggled out of the prehistoric ocean and started to move onto the land. It was an evolutionary turning point. Shoppers now regularly use mobile technology to outmaneuver retailers and outwit salespeople. The days of the retail store being a closed, controlled environment - a private theater where the retailer controls the show - are over.
As shoppers, we now have a veritable armory of mobile tools we can take into battle, all of them designed to empower the shopper (and arguably, to weaken the store's ability to capture extra profits). What's more, with the rise of mobile commerce (mCommerce), stores now face the prospect of their showroom helping convert someone else's sale. Savvy retailers are embracing the old adage "If you can't beat 'em, join 'em", and are adapting to the habits of the mobile shopper by providing mobile tools that enhance the in-store experience. Here are three notable examples from the past three years:
1. Sephora: Reducing anxiety through peer validation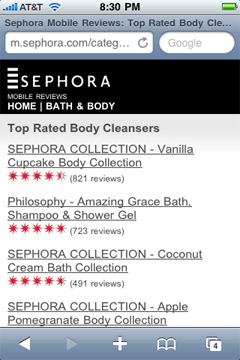 In 2009, Sephora gave its mobile-enabled customers a big gift, in the form of hundreds of thousands of product reviews at their fingertips while they explored Sephora stores. Sephora stores are packed with thousands of products, many of them boasting celebrity endorsements, grand poetic promises or luxurious packaging, sold at per-ounce prices that rival truffles and caviar. With such a diverse set of choices, shoppers can easily find themselves overwhelmed.
Being able to easily pull up customer ratings and reviews before making a commitment to purchase a given item was a tremendous value-add for shoppers. Most importantly, the "mobile shopping assistant" helped reduce the anxiety that can often accompany the buying decision, making shoppers feel more comfortable in Sephora stores.
2. Best Buy: Recapturing customer leakage
Best Buy, often a victim of the mobile shopper's ability to instantly compare prices, took a big step towards leveling the playing field in 2010 when they added QR codes to the product fact tags in all of their North American stores. Best Buy had the insight to recognize that consumers were already using their phones to search for additional product information (including customer reviews) while they were in the stores. Sure, there was a chance that Best Buy's website might have come up as a top result for that search, but there's even more chance that various competitors would be listed right there, along with their pricing! If you've already shouldered the expense and energy to get a shopper into your physical store, do you really want to leave your fate in the hands of Google's algorithm?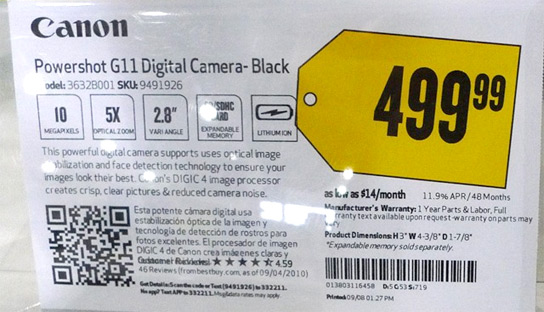 By posting QR codes designed to go directly to that product's listing on Best Buy's website, the company took control of its destiny. In this case, the QR code makes all the difference (vs. just listing a product URL on the fact tag). The shopper can just scan the code and go directly to the product details and reviews. They don't have to type in the URL. They don't have to read through the search results and choose which to click on. In essence, the QR codes offer the path of least resistance, helping to neutralize the threat of competitors' mobile sites and giving the shopper a more efficient, enjoyable experience.
3. Walmart: Giving mobile shoppers superpowers
Walmart has just given us a glimpse into the future of the mobile-enabled retail shopper. The retail giant just launched its new iPhone app, designed from the ground up to enhance the shopper experience. Beyond providing product information, reviews and pricing (making this even easier with a built-in QR code scanner), the app gives shoppers a shopping list tool, access to coupons, information about product availability and in some stores it will even help the shopper locate where an item is in the store.
These last few features are a huge advance. Walmart is integrating the app with its store inventory system, allowing the company to leverage its significant data architecture to make the shopping experience more efficient and more reliable. The brilliance of this strategy is that it leverages information that only Walmart can access. That means that outside shopping apps could never offer these features, or as robust an in-store experience as Walmart's own app. As Best Buy's approach to QR codes shows, there's wisdom in keeping your competitors out of sight and out of mind.
This is the future of the mobile shopper, and the way that retailers can fight back against an economy based purely on price competition. Walmart recognizes that there's more to shopping than just finding the best price by a few pennies. We invest our time and energy into the shopping process. We struggle through frustration when we can't find something we want (or search in vain only to discover the store doesn't carry it or is out of stock). If a retailer can use their technology to reduce the time we have to spend AND the reduce the frustration, then they are giving us real, tangible value. That has a huge impact on both loyalty and profit margins.
The new Walmart app is a model that I expect many other retailers to pick up. I can easily see a day where I have an app (or a mobile web bookmark) on my phone for each major retailer that I visit, with each app optimized to give me the best possible experience in that store. Every retailer needs to take a good, hard look at the current shopper experience in their stores, then start using mobile technology to improve it. Those who don't are going to be left out in the cold.
Retailers, prepare for mobi-sapiens. We are evolving, and you can either embrace this technology and make it work for you, or we'll use it against you!
(Does your brand have a strategy for addressing the mobile consumer? Are you offering a mobile web experience that is optimized for their needs and habits? If not, I can help. Contact me to talk about the opportunities for your brand to go mobile in a big way!)