By now, you probably know that I love a good ad campaign, whether it's on TV, online or outdoor. What catches my eye are campaigns that cut through the clutter and make an impact. Along those lines, I've been mighty impressed with the new outdoor ad campaign from Seamless, the online food delivery service.
If you happen to live in one of the major metro areas served by Seamless.com (such as New York or San Francisco), you've probably spotted these ads in subways, buses, and other public transit locations. The ads are beautiful, featuring gorgeous food photography, vibrant colors and clean, modern design, but what really makes them shine is the copy. The focus of the campaign is the phrase "Happiness is..." Each ad follows that with a concise sentence that gets to the core of what matters for a customer, in a 100% brand-relevant way.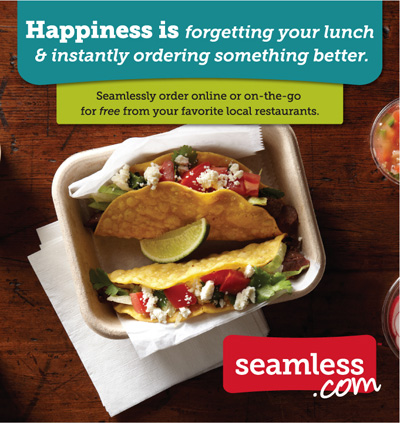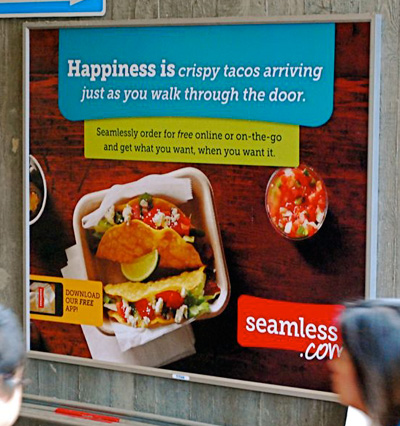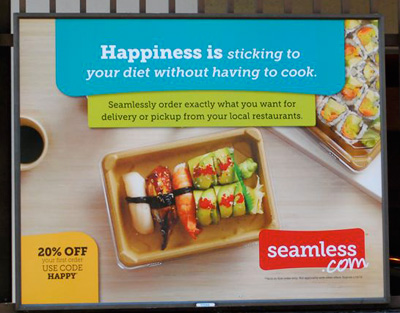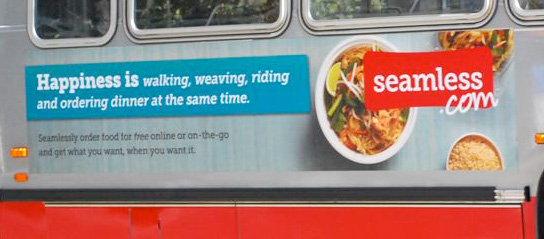 What I love about these Seamless ads is the fact that they don't focus on the service itself, or the details of how it operates. What they do is describe, in unmistakable terms, the value that Seamless provides to its customers. The choice of statements touches on universal topics for the busy urbanite, from forgetting your lunch, to sticking to a diet, to having to wait for dinner after a busy day.
This campaign demonstrates something I've always said: that the most important part of your product or service is the effect it has on the customer's life.
Want to read about other campaigns that have caught my eye? Check out these posts: